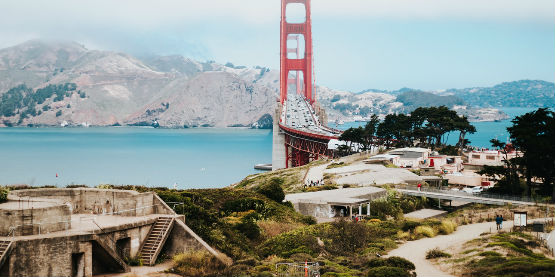 Woodland Outdoor Wanderers (WOW)
The Woodland Outdoor Wanderers is a comminuty-based oranization open to all, and dedicated to introducing Yoloans to their natural and cultural environments, and to each other. Click 2020 Hikes to find out when and where WOW will be hiking this year.

WOW Hikers Heading to Scenic Berkeley Hills March 14
The Woodland Outdoor Wanderers will return to the hills of Berkeley on Saturday March 14 for an early spring sojourn to "Thousand Oaks", an exceptionally designed historic neighborhood nestled among wild oaks and unique rock outcroppings. A 1910 advertisement for this scenic housing enclave read:
Thousand Oaks is the crown jewel of Berkeley's real estate development. We are touching this, Nature's masterpiece, with reverent hand. No deep cuts will scar its velvet slopes; streets will wind gracefully in and out, oaks will be preserved. The rocks will be undisturbed. The finest landscape engineer on the coast has been working for months in order to supplement nature's profusion with the highest of man's art.
"The finest engineer" was Mark Daniels, who shaped Thousand Oaks into a beautiful "residential park", preserving much of its natural features, creating an unrivaled environment in which talented Berkeley architect designed a bold and eclectic palette of expertly crafted houses. Four years later in 1914, Daniels laid out Woodland's very own Beamer Park, preserving the plentiful valley oaks that characterized Woodland at that time. Thousand Oaks has another connection to Woodland: Many of its houses (several to be seen on this tour) were designed by the eminent Berkeley architect, John Henry Hudson, who designed three stunning Woodland houses during the same era – all on First Street.
Beginning at Great Stoneface Park, with its commanding views of the Bay, hikers will meander through the stones along Indian Trail to gently sloping streets to enjoy the natural beauty and to glimpse first-hand how the architecture harmonizes with Berkeley's rustic environment. The hike will be led by historian David Wilkinson and architect Roger Klemm, who lead annual spring and summer WOW outings to Berkeley and San Francisco.
Hikers can bring their own picnic lunch and return to Great Stoneface Park after the hike or drive into Berkeley to choose from its many restaurants. Wear good walking shoes and dress in layers as the weather is changeable. Bring water and sunscreen.
Hikers have the option of driving directly to Berkeley or gathering at Woodland Presbyterian Church, 1324Columbia Drive at 8:00 am for an 8:15 am sharp departure, following sign-in, a hike overview and carpooling arrangements. The hike will begin by about 10:00 am at Great Stoneface Park, 1300 Thousand Oaks Dr. in Berkeley. The walk will conclude in the early afternoon. If you plan to meet the group in Berkeley please let us know so we can be expecting you. For more information, call David at (916) 712-9461.
The Woodland Outdoor Wanderers is a community-based organization open to all, and dedicated to introducing Yoloans to their natural and cultural environments, and to each other. For more information about future hikes please contact Kathy Trott at (530) 312-0100 or email at kathyjtrott@gmail.com