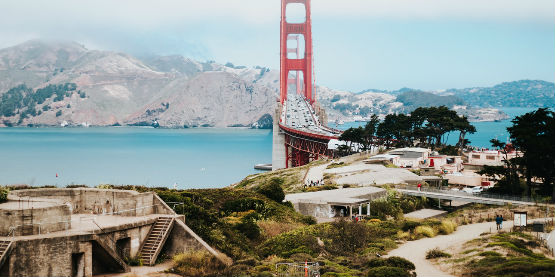 Woodland Outdoor Wanderers (WOW)
The Woodland Outdoor Wanderers is a comminuty-based oranization open to all, and dedicated to introducing Yoloans to their natural and cultural environments, and to each other. Click 2019 Hikes to find out when and where WOW will be hiking this year.

WOW Hikers Heading Back to San Francisco - July 20, 2019
The Woodland Outdoor Wanderers return to the "Cool Gray City of Love" for their annual summer trek in San Francisco. This year's tour, led by Woodland historian, David Wilkinson, and architect Roger Klemm, offers a fun and intriguing day highlighting the City's diverse and unique culture, modes of transportation, public parks, public art, breathtaking views, and good food—all wrapped in cooler weather.
The day begins with a carpool from Woodland to BART for a trip under the bay to downtown San Francisco. From the Embarcadero we will walk to the City's most recent addition to their renowned built environment: the Transbay Transit Center. A visionary transportation and housing project, when fully completed it will transform downtown San Francisco creating a "Grand Central Station of the West" in the heart of a new transit-friendly neighborhood.
The brand new Transit Center, recently re-opened to the public after a cracked steel beam forced closure for several months, replaced the former Transbay Terminal at First and Mission streets built in 1939, when the Bay Bridge opened. The Transit Center features a 5.4 acre park on its four-story roof. This is a very unique urban park, running the entire length of the Transit Center's nearly four-block stretch. An urban oasis containing 600 trees and 16,000 plants arranged in 13 different botanical feature areas, the park is a refuge from the busy, noisy streets below. In this remarkable setting we will contemplate the beauty of nature and inspired architecture fused in a successful balance, while creating unforgettable views of the City's skyline.
From the heart of downtown San Francisco, hikers will then board the Muni railway for a short excursion through Cole Valley to the Sunset District and the Golden Gate Heights neighborhood. Historically, wind-swept and sculpted over millennia into hilly sand dunes, these "outerlands" contain rock outcroppings amidst residential neighborhoods traversed by public steps to Grand View Park. Aptly named, this spot offers commanding 360 degree views of the entire city, including (on fog-free days) the Pacific Ocean and Golden Gate Bridge. But the elegant mosaic tiled steps leading up to the park are the showstopper. Completed in 2005 as a neighborhood public art project, local artists created in decorative ceramic tile a story of sky and water, birds and fish, flower and frogs. Complementing the art, neighbors have planted a stunning collection of succulents and other hardy plants alongside the public steps.
From there it's a short, pleasant walk to the Inner Sunset commercial district near Golden Gate Park for a relaxing lunch chosen from a wide variety of restaurants. After lunch hikers will cross Lincoln Avenue into Golden Gate Park for a stroll through the renowned Botanical Garden, which first opened to the public in 1940. The largest of its kind on the West Coast, these gardens consist of more than 7,500 varieties of flora from across the globe. It's one of many treasures within Golden Gate Park, magically created out of sand dunes in the 1870s. Admission to the Botanical Garden is $9.00 for adults, $6.00 for seniors and children.
Participants will gather at the Woodland Presbyterian Church, 1324 Columbia Drive, at 8:00 a.m. for an 8:15 a.m. sharp departure, following sign-in, a hike overview and carpooling arrangements. Hikers will then drive to the El Cerrito del Norte BART station to catch a train to the Embarcadero station in SF. The tour will begin at approximately 10 AM and conclude by late afternoon. Directions will be provided. For more information, call David at (916) 712-9461.
Woodland Outdoor Wanderers is a community-based organization open to all, and dedicated to introducing Yoloans to their natural and cultural environments, and to each other. Visit www.woodlandoutdoorwanderers.org for information on future hikes.