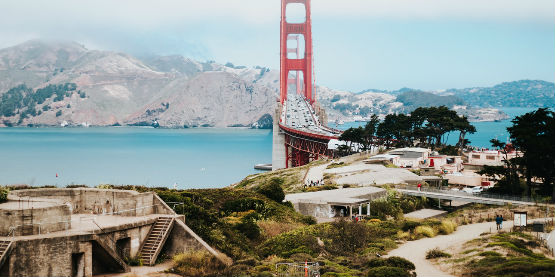 Woodland Outdoor Wanderers (WOW)
The Woodland Outdoor Wanderers is a comminuty-based oranization open to all, and dedicated to introducing Yoloans to their natural and cultural environments, and to each other. Click 2019 Hikes to find out when and where WOW will be hiking this year.

WOW Hiking Marin Headleads – September 21 – 7:45am
The Woodland Outdoor Wanderers' will enjoy a refreshing hike in the Marin Headlands Saturday September 21. Joe Vandepeute has organized this hike for us. This former WWII military site was saved from developers and turned over to the National Park System and is part of the Golden Gate National Recreation Area. The trail starts wide and somewhat gravely then narrows after a mile all the while enjoying the beautiful scenery (perhaps with fog) overlooking the Golden Gate Bridge. This moderate hike of about 3.5 miles does go up several hundred feet of elevation about midway then follows a big round trip loop back to ocean level.
The Marin Headlands is home to a diversity of animal species. Local mammals include coyotes, deer, rabbits, and bobcats. Due to the close proximity of the Pacific Flyway, the headlands also hosts a large variety of owl, song and shore birds, egrets, grebes, and mallard ducks.
The nps.gov website using "Marin Headlands" offers great information and views of the area.
After the hike is over, you might consider driving to the Marine Mammal Center for a look at this great facility with an interesting reception area and gift shop. Sausalito and Marin County are also yours to explore after the hike.
Wear layers of clothing, closed-toe shoes and bring water, a hat, sunscreen, and a snack. Cameras and binoculars are a plus for the great views.
Hikers will gather at the Woodland Presbyterian Church, 1324 Columbia Drive, at 7:45 a.m. for an early 8:00 a.m. departure, following sign-in, a hike overview and carpooling arrangements. Directions will be provided for the drive.
The Woodland Outdoor Wanderers is a community-based organization open to all, and dedicated to introducing Yoloans to their natural and cultural environments, and to each other. For more information email kathyjtrott@gmail.com
Upcoming WOW Hikes
October 19, 2019 Robert Louis Stevenson State Park - Leaders Mark and Karen Hannum
November 17, 2019 2020 WOW Planning Potluck