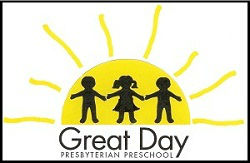 Great Day Presbyterian Preschool provides a nurturing, loving, safe preschool experience for children three, four and five years of age. Children have fun while developing the social, emotional and academic skills needed for kindergarten. We focus on teaching the skills children should have in place to be successful, while loving school and learning.
For more information contact Nancy Van Sant or Hedy Sala, Co-Directors, at 530-662-8575, or email them at greatdaypreschool@gmail.com
Announcements
Dates for Pumpkin Fun Days to be determined
Important Dates

October 8th & 15th from 1pm-6pm - T/Th Classes
October 22 frtom 1pm-6pm - AM Pre-K & TK Classes (New Families to Great Day)
More information to come in the monthly newsletters. Please watch your email box for our correspondences.

Halloween Fun Days
October 28th & 29th
Happy Haunting! We have some fun activites planned for the kids as we get into the Halloween spirit.



STAFF
Nancy Van Sant - Co-Director
Hedy Sala - Co-Director

Teachers
Ariel Alonso
Kim Bryan
Crissi Cairns
Nancy Qualls
Hedy Sala
PROGRAM HOURS AND TUITION:
2021-2022
3-Year-Old Program
Days: Tuesday and Thursday
Times: 9:00AM - 11:30AM
Tuition: $230.00/month
Registration fee: $50.00 yearly, non-refundable
4-Year-Old Morning Pre-K Program
Days: Monday, Wednesday & Friday
Times: 8:30AM - 11:30 AM
Tuition: $300.00/month
Registration fee: $50.00 yearly, non-refundable
Afternoon TK (Third Year/Fall Birthdays)
Days: Monday - Thursday
Times: 12:45 PM - 3:30 PM
Tuition: $375/month
Registration fee: $50.00 yearly, non-refundable
Parent Handbook 2021-2022
Yearly Calendar 2021-2022
Monthly Newsletter
Health & Safety Plan
COVID-19 Enhanced Protocols
OUR MISSION
Our Mission is to provide a diverse, exciting environment that encourages children to learn at their own individual pace.

OUR PROGRAM
Our program guides children in their development towards kindergarten readiness by building confidence through social, emotional, intellectual and physical activities in a relaxed and accepting atmosphere.

We believe learning at this age comes most naturally in the form of play. Our program is guided by Christian principles and includes a prayer to begin the day, a blessing before snack, as well as discussions and activities related to Christian holidays.

Great Day Presbyterian Preschool is licensed by the Community Care Licensing Division of the Department of Social Services of the State of California and is required to adhere to its standards.