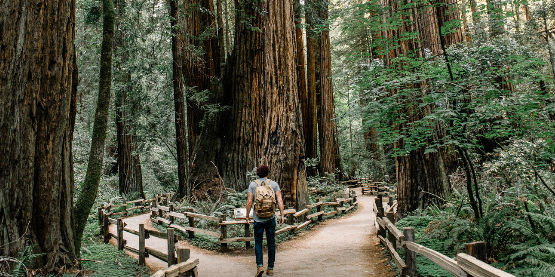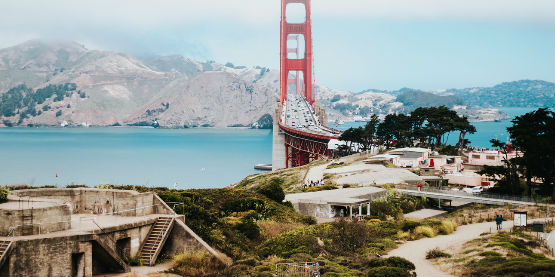 Woodland Outdoor Wanderers (WOW)
Saturday, March 18th, 2023
Dogpatch Neighborhood of San Francisco
2023 Hiking Schedule
WOW hikers return to San Francisco, the emerald City by the Bay, for an early spring sojourn! We will enjoy navigating BART and SF MUNI to disembark along the harbor a short distance south of the Chase Center, a palace for professional basketball, in an area called "Dogpatch" which was settled long before basketball was invented.
Dogpatch was uninhabited land for much of its history, used sporadically by Indigenous People as hunting ground. In the late 1700s, Spanish missionaries grazed cattle on nearby Potrero Hill. During the Gold Rush and subsequent population surge, Dogpatch was subdivided with streets named after California counties and American states to remind Easterners of home. Dogpatch was cut off from downtown San Francisco until Mission Bay was filled in with resulting slow growth. By the early 1900s, a large concentration of non-English European immigrants had settled there. Over half of Dogpatch's population at this time was Irish immigrants; Scots, Swiss, Russians, Slovenians, Serbians and Italians made up part of the population, and native born whites accounted for less than 20%.
Blue collar jobs abounded. Union Ironworks launched the first steel ship ever built on the Pacific Rim at Pier 70 in Dogpatch in 1885. Since then the shipyard has built and repaired hundreds of ships, contributing mightily to both world wars. During WWII alone over 2,500 ships were repaired here. In a city renowned in this era for its high tech industry and fine restaurants, Pier 70 in Dogpatch continues to repair ships.
Dogpatch today is being transformed into a mixture of high tech, office and ongoing industrial uses. Its Victorian neighborhood is intact, relatively unharmed by the 1906 Earthquake and massive fire. Art galleries and restaurants are popping up to serve the needs of upwardly mobile workers. The famed cable cars are handcrafted in a wood working studio in Dogpatch; a small sandy beach is a popular destination on a sunny day. Cavernous industrial buildings built during the epic shipbuilding days are now used by a modern workforce using laptops. All of this and more await intrepid hikers who will glimpse vestiges of San Francisco's heavy industrial era, learn about labor history disrupted by violent strikes, and see first-hand how this famed city continues to reinvent itself in endlessly creative ways pointing to the future.
Your guides will be Woodland author and historian David Wilkinson and architect Roger Klemm, a native of the Bay Area who worked in San Francisco for many years. This is a moderate hike of about 4 miles on relatively flat terrain. Hikers can bring a lunch or choose from several restaurants in Dogpatch at the conclusion of the hike which will take about 2.5 hours with breaks in between.
Participants will meet at the Woodland Presbyterian Church's parking lot on the corner of Road 98 and West Gibson Road at 7:30 a.m. After an overview of the day and arranging carpooling, hikers will drive to El Cerrito Del Norte BART station located at 6400 Cutting Blvd., El Cerrito (free parking). We will take BART to the SF Powell Station where we will board MUNI for a short excursion on the T Line to Dogpatch. We will begin the hike at approximately 10:30 AM at the corner of Third and Mariposa streets.
Wear good walking shoes and dress in layers as the weather is changeable. Bring a mask, water and sunscreen. It is expected that all hikers, who are able, have had their Covid shot(s) and boosters. Current Covid protocols will be observed.
For more information, contact David at davwilk@pacbell.net or (916) 712-9461.
The Woodland Outdoor Wanderers is a community-based organization open to all, and dedicated to introducing Yoloans to their natural and cultural environments, and to each other.
Click Here
to download the 2023 Hiking Schedule.
Call if you have questions (530) 312-0100 or email kathyjtrott@gmail.com